How to make Green Chile Meatloaf Recipe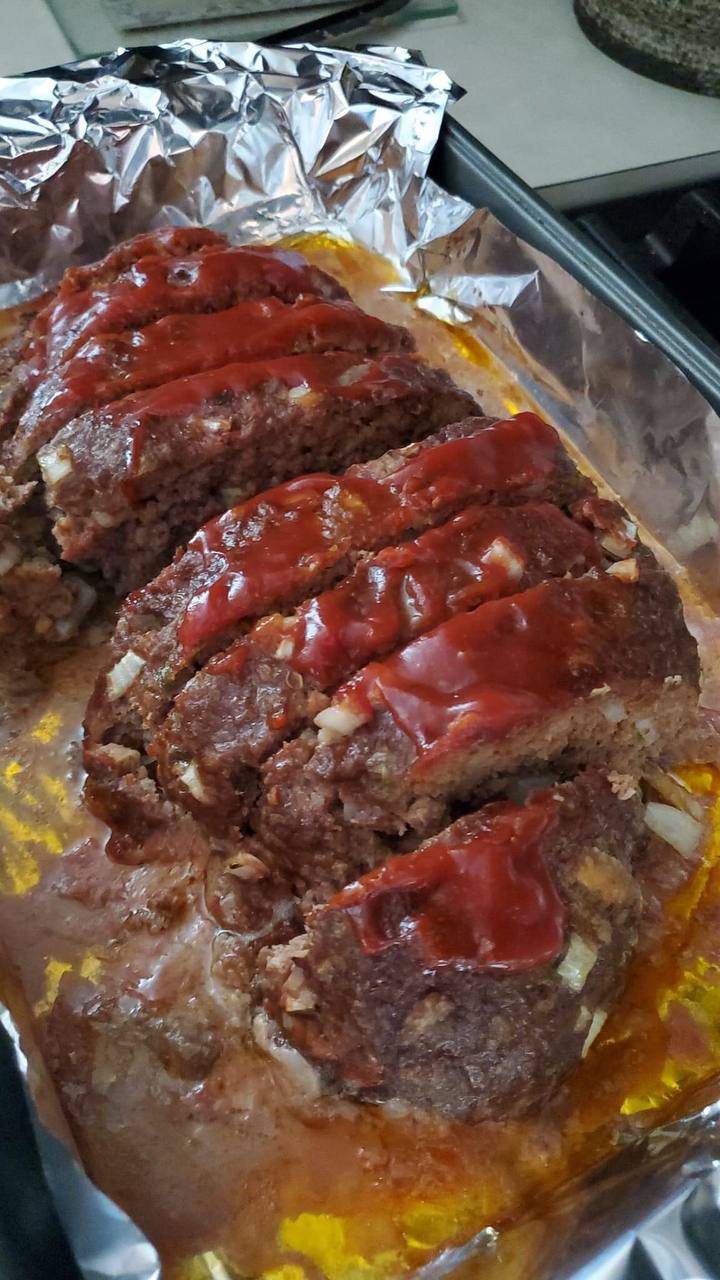 Ingredients:
Meatloaf:
1.5 lbs ground beef
1/2 cup corn flakes cereal crushed up
1/2 cup onion diced
1/2 cup bell pepper diced
1 can green chiles
1 egg
2 tsp minced garlic
1/2 tsp salt
1/4 tsp pepper
1/2 tsp cumin
1/2 tsp chili powder
Sauce (optional – use another topping if you prefer):
2 tbsp tomato paste
1 chipotle pepper diced
1/2 tsp adobo sauce from can
1 tbsp honey
1/2 tbsp apple cider vinegar
Instructions:
Preheat oven to 350 degrees. Lightly spray a baking dish or casserole dish with cooking spray.
Combine all the ingredients for the meatloaf in a large bowl. Mix together well with hands to combine, then shape into a loaf and place in your baking dish.
In another bowl, combine all the ingredients for the sauce and stir together. Spread the sauce on top of the meatloaf.
Bake in the oven at 350 degrees for 45-55 minutes, or until the internal temperature reaches 165 degrees. Enjoy alongside the vegetable of your choice!
Notes:
I used cornflakes in this recipe because I always seem to have extra at the house. You can also try oats or breadcrumbs instead. This recipe is pretty flexible.
If you are sensitive to spice, I recommend skipping the chipotle sauce and using ketchup instead.
Nutrition analysis (per serving assuming 6 servings):
335 calories, 23 g fat, 9 g sat fat, 540 mg sodium, 10 g carbohydrate, 21 g protein, Vitamin A: 42%, Vitamin C: 51%, Calcium: 4%, Iron: 19%
Frequently Asked Questions:
Can I use a different type of meat besides ground beef?
Yes, you can use other ground meats like ground turkey, ground chicken, or a combination of meats if you prefer a different flavor or have dietary restrictions.
What size baking dish should I use for this meatloaf?
You can use a standard 9×5-inch loaf pan or a similarly sized casserole dish.
Ensure it's deep enough to accommodate the meatloaf without overflowing.
Are the green chiles used in this recipe spicy?
The level of spiciness can vary depending on the type of green chiles you use.
Canned green chiles typically come in mild and hot varieties, so choose according to your heat preference.
If you prefer a milder taste, opt for mild green chiles.
Can I skip the sauce or use a different topping?
Yes, you can skip the sauce or use a different topping if you prefer.
Meatloaf is versatile, and you can customize it with your favorite sauces or toppings, such as ketchup, barbecue sauce, or a gravy.
How can I tell when the meatloaf is done cooking?
The meatloaf is done when it reaches an internal temperature of 165 degrees Fahrenheit (74 degrees Celsius).
You can use a meat thermometer to check the temperature in the thickest part of the meatloaf.
Additionally, the meatloaf should be browned and have pulled away from the sides of the baking dish.
What type of ground beef should I use for this meatloaf?
You can use ground beef with varying levels of fat content, but 85% lean ground beef is a good choice as it provides a balance of flavor and moisture.
You can adjust the fat content to your preference.
Can I use fresh green chiles instead of canned ones?
Yes, you can use fresh roasted and peeled green chiles if you have access to them.
Roasted green chiles add a delightful smoky flavor to the meatloaf.
Is the sauce necessary for this recipe, or can I skip it?
The sauce is optional, and you can skip it if you prefer a simpler meatloaf.
The sauce adds an extra layer of flavor, particularly with its sweet and spicy elements, but the meatloaf is still delicious without it.
Can I prepare this meatloaf in advance and cook it later?
Yes, you can prepare the meatloaf mixture in advance, shape it into a loaf, cover it tightly, and refrigerate it until you're ready to bake.
Just be sure to add the sauce right before baking.
What's a good side dish to serve with Green Chile Meatloaf?
You can pair Green Chile Meatloaf with various side dishes, such as mashed potatoes, steamed vegetables, a green salad, or garlic bread.
Choose sides that complement the flavors of the meatloaf to create a balanced meal.
Credit: Belaya