Chicken with Garlic Parmesan Rice is the perfect dish for easy weeknight dinners. This quick chicken and rice recipe is not only tasty but it uses ingredients you likely have on hand. Simply use chicken tenders, white rice and white wine to quickly whip up this easy dinner!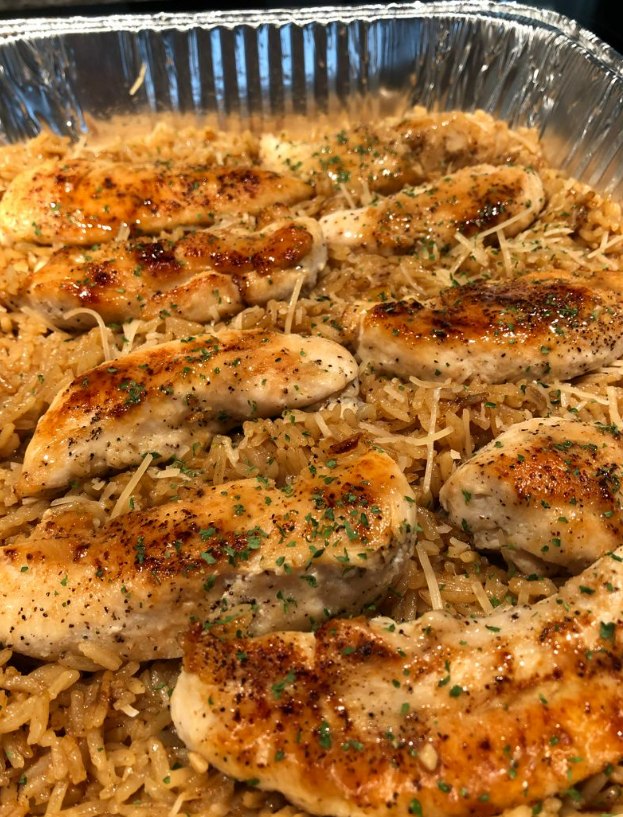 Ingredients
2 tbsp olive oil
½ c. butter, (1 stick)
1 pound chicken tenders
½ tsp garlic powder
2 tbsp minced garlic
1 tsp salt, divided
¼ tsp red pepper flakes
1 ½ c. white rice, (uncooked)
½ c. dry white wine, (such as Pinot Grigio)
½ c. Parmesan cheese, (grated or shredded)
3 c. chicken broth
Salt and pepper
How To Make Chicken with Garlic Parmesan Rice
Step 1: In a large skillet, heat the olive oil over medium heat. In the meantime, season the chicken with salt, pepper, and garlic powder. Place the chicken into the skillet and sear until browned and completely cooked. Set aside when done.
Step 2: Into the same skillet, place the butter, garlic, pepper flakes, and ½ tsp of salt. Saute over medium heat for a few minutes. Adjust the heat to medium-high, then pour in the white wine. Cook for approximately 5 minutes, stirring constantly. Reserve 3 tbsp of the pan sauce for later.
Step 3: In the remaining butter sauce in the skillet, add the uncooked rice. Stir well. Pour in the chicken broth and season with the rest of the half tsp salt. Bring everything to a low boil. Once boiling, adjust the heat to medium-low. Put the lid on and simmer for about 20 minutes or until the rice is tender, stirring often.
Step 4: On top, sprinkle the Parmesan and arrange the chicken tenders. Replace the lid and take the skillet off the heat. Allow the dish to stand for about 5 minutes.
Step 5: Before serving, drizzle the reserved pan sauce on top of the chicken. Garnish with some parsley. Enjoy!
Credit: allwecook