most mouthwatering, moist, and utterly delectable Banana Pudding Cake! This recipe is your ticket to recreating a dessert that will have everyone raving. Dive into the world of baking bliss, and let's whisk our way to deliciousness!
Overview:
Prep Time: 20 minutes
Cook Time: 30 minutes
Total Time: 50 minutes
Category: Dessert
Cuisine: American
Servings: 12 slices
Ingredients:
1 box yellow cake mix
1 (3.5 oz.) package instant banana cream pudding mix
4 eggs
1/4 cup oil
1 cup water
1 cup mashed bananas
Optional: 2 cup mini chocolate chips
For the Icing:
2 cups powdered sugar
2 Tablespoons butter, melted
2 Tablespoons milk
1 teaspoon vanilla
A dash of salt
Step-by-Step Guide to Baking Bliss:
Preheat & Prepare: Start by preheating your oven to 350°F (180°C). Grease a 9×13 inch baking dish.
Mix the Basics: In a large mixing bowl, combine the yellow cake mix, instant banana cream pudding mix, eggs, oil, and water. Blend these ingredients together until smooth.
Add the Bananas: Fold in the mashed bananas, ensuring they are well incorporated into the batter. If you're a chocolate lover, now is the time to sprinkle in those optional mini chocolate chips!
Pour & Bake: Pour the batter into the prepared baking dish. Bake in the preheated oven for 30 minutes or until a toothpick inserted into the center comes out clean.
Icing Time: While the cake is baking, whisk together the powdered sugar, melted butter, milk, vanilla, and a dash of salt until smooth.
Cool & Ice: Once the cake is done and out of the oven, let it cool for a bit before drizzling the icing over the top. Let the icing set before serving.
Savory Tips & Tricks: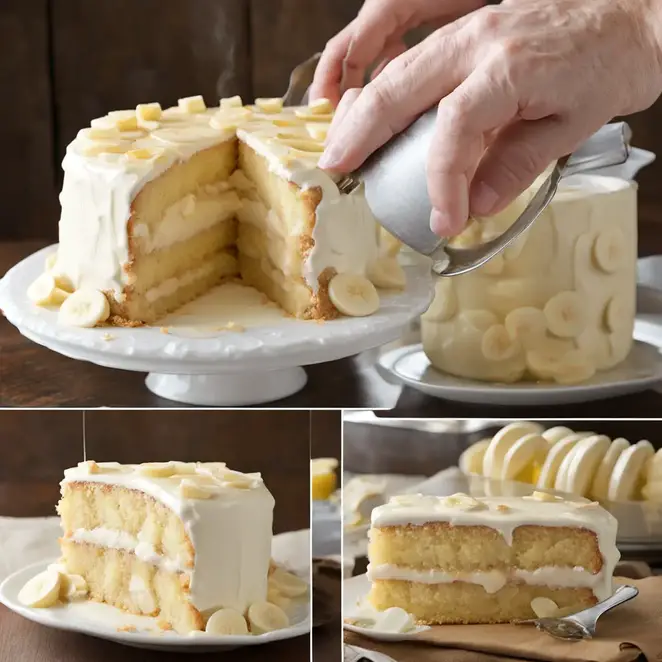 Ripe Bananas: The riper the bananas, the more flavor! Don't shy away from those brown spots; they're gold for this recipe.
Chocolate Chips: If you opt for the chocolate chips, try using dark chocolate for a balanced sweetness.
Serving Suggestion: Serve this cake chilled with a dollop of whipped cream or a scoop of vanilla ice cream for an extra indulgent treat.
The Secrets Behind Perfect Banana Pudding Cake:
To elevate your Banana Pudding Cake, here are a few secrets that make all the difference:
Quality Ingredients: Always opt for high-quality ingredients. Fresh, ripe bananas and a good quality cake mix can significantly impact the flavor and texture of your cake.
Don't Overmix: Overmixing can lead to a dense cake. Mix just until the ingredients are combined to ensure a light and fluffy texture.
Patience is Key: Allow the cake to cool completely before icing to avoid a melty mess. Patience will be rewarded with a beautifully set, glossy icing.
Serving Suggestions:
A La Mode: Serve a slice of this delightful cake with a scoop of vanilla or caramel ice cream.
Whipped Cream: A dollop of freshly whipped cream can add a light, airy texture and enhance the flavor.
Fresh Fruit: A side of fresh berries or sliced bananas can bring a refreshing balance to this sweet treat.
For more delicious dessert recipes, check out AllRecipes
Frequently Asked Questions (FAQs):
Can I use a different flavor of pudding mix? Absolutely! Feel free to experiment with other pudding flavors like vanilla or butterscotch for a unique twist.
Can this cake be frozen? Yes, this Banana Pudding Cake freezes well. Just ensure it is wrapped tightly and stored in an airtight container.
How long will the cake stay fresh? Stored in an airtight container at room temperature, the cake will stay fresh for up to 3 days.
Voilà! You've just unlocked the recipe for the perfect Banana Pudding Cake! This cake is not just a dessert; it's an experience—a blend of flavors and textures that will make your taste buds dance. Whether it's for a birthday, a holiday, or just a weekday treat, this cake is sure to be a hit. Happy baking, and enjoy every bite of your homemade masterpiece!
Credit: 1krecipes